What's new in Teamogy 2.14
Release date: 2019-09-20
Search in Breadcrumbs
Dropdownable in Time Recorder
Time Recorder – Easy way to make Time Record
Task Report
Changes in User Area
Fixed Values  in Proforma View
Better Job Table Print
Replacing the misunderstanding icon
1. Financial Board
The financial board is the place that provides a clear view of the entire agency. It contains charts with key indicators – overall evolution of revenues and costs of the agency according to financial and job aspects, various views on client profitability and efficiency and VAT report.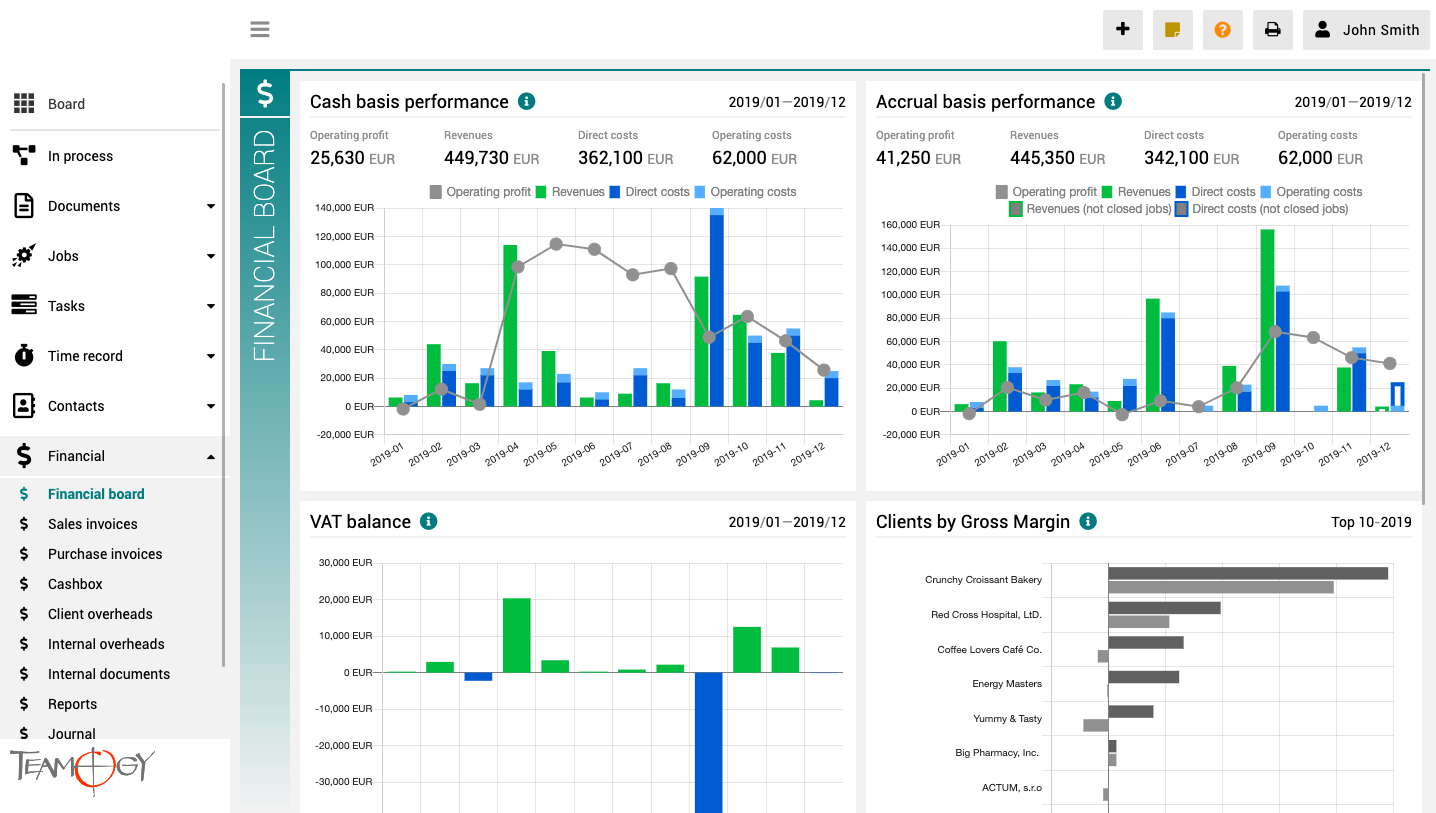 1. Search in Breadcrumbs
This version gives you option to write initial letters or the whole name of requested criteria to breadcrumb's search. You will find your data as fast as possible.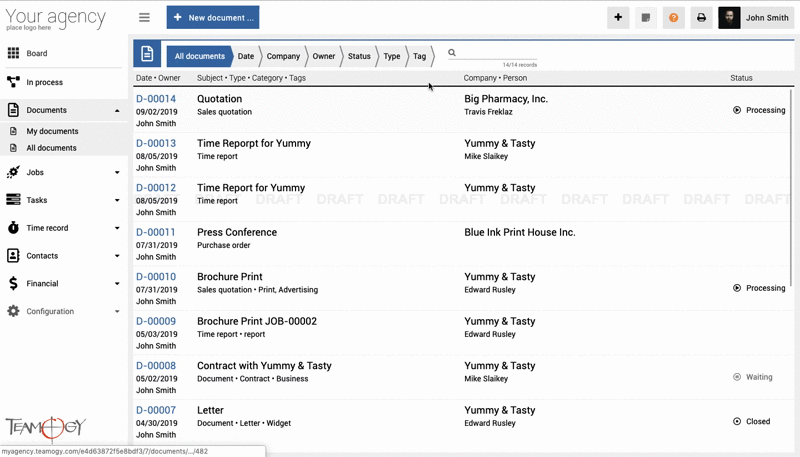 2. Dropdownable in Time Recorder
In the previous versions you could pair documents to items on job. We are pleased to announce you that until this version, you can pair also Time Records to items!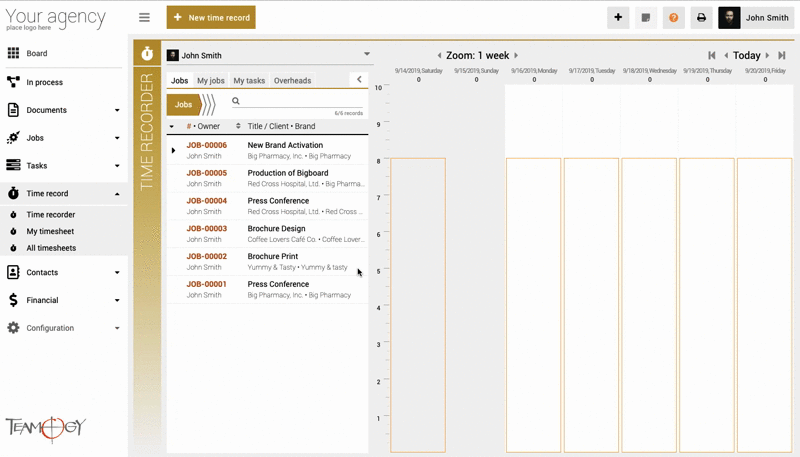 3. Time Recorder – Easy way to make Time Record
Do you make a lots of new time records per day? Do it faster now! Use plus and mines buttons to make a time record faster!
4. Task Report
Now you will have overview about tasks, which are connected to relative jobs.
Check the gif below, how to compose the Task Report from Job.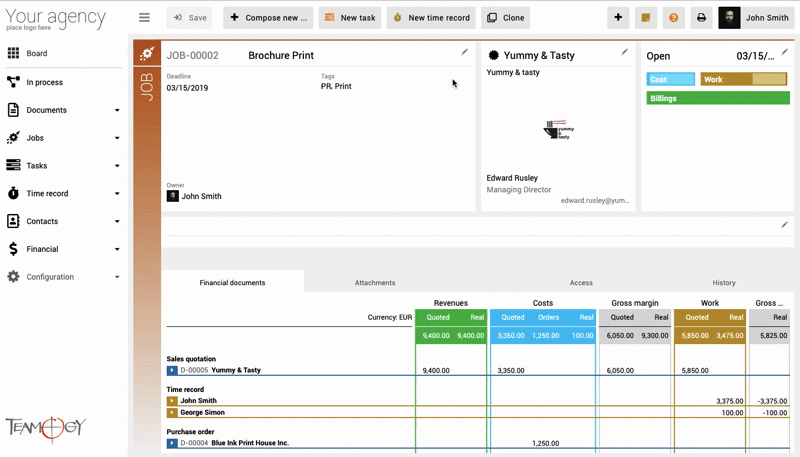 5. Changes in User Area
We fixed the bug with photo rotation and we have replaced buttons SAVE and CANCEL with CLOSE button.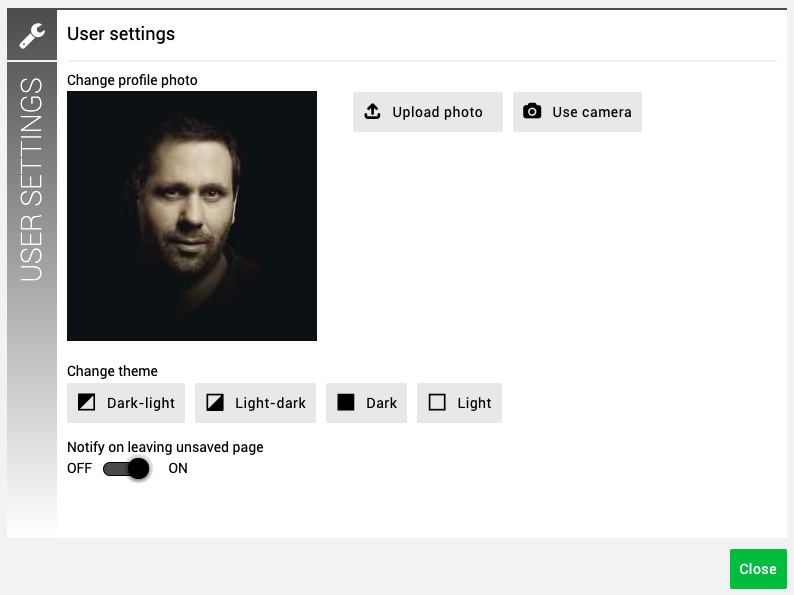 1. Fixed Values in Proforma View
We have corrected values in the Proforma view.
2. Better Job Table Print
Many improvements have been made to a printable version of job table.
3. Replacing the misunderstanding icon
We have replaced the misunderstanding icon (the arrow) with better icon. The arrow was really misunderstanding, in many of you evocated the back action. It just rolled the left navigation menu, that is the reason why we have replaced it.