Dedicate most of your time and energy to agency work – creativity, strategies, clients, and your team.
Thanks to Teamogy, you can eliminate chaos, which arises without a quality system. Minimize and sweeten the necessary administrative work.
Get a great overview of entire agency operations, including up-to-date, always available financial results.
Six Good Reasons For Teamogy
Accurately quoted jobs thanks to precise estimates of work requirement.
Teamogy's excellent tracking system allows for accurate billing of all worked hours.
Timely and accurately billed supplier costs thanks to supply cost re-invoicing.
Comfort in team thanks to systematically assigned work.
Easy search of all important documents because they are created directly in the system.
Up-to-date results of agency available at all times.
Teamogy Is A System That Covers All Agency Needs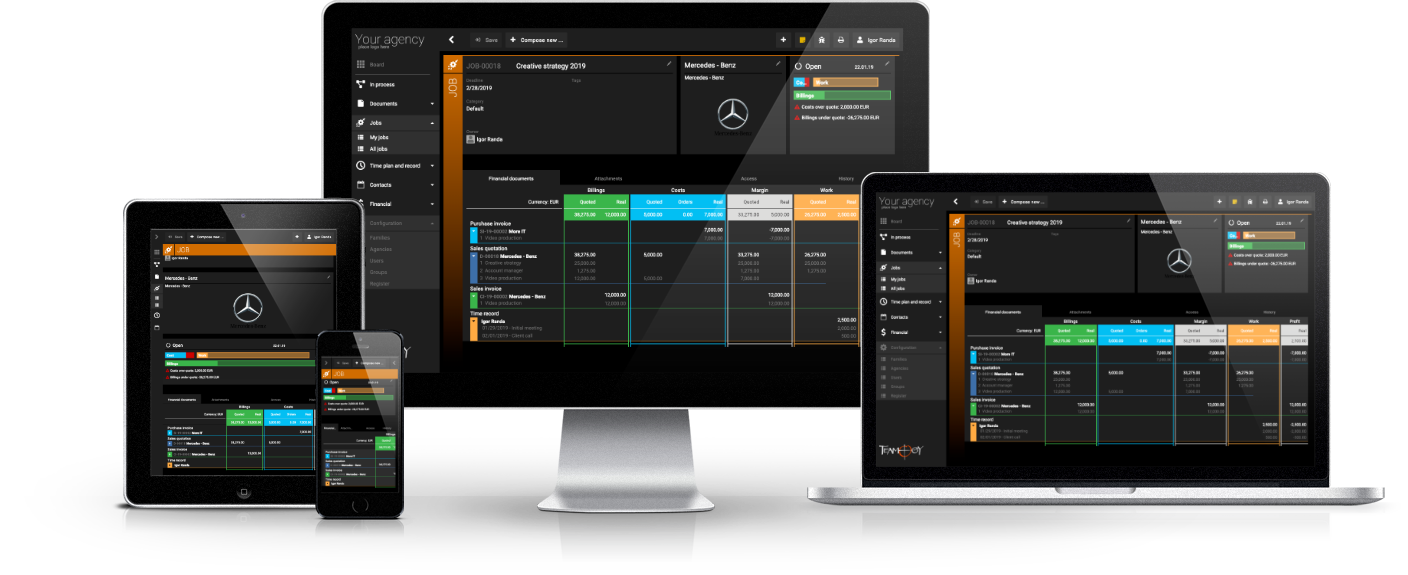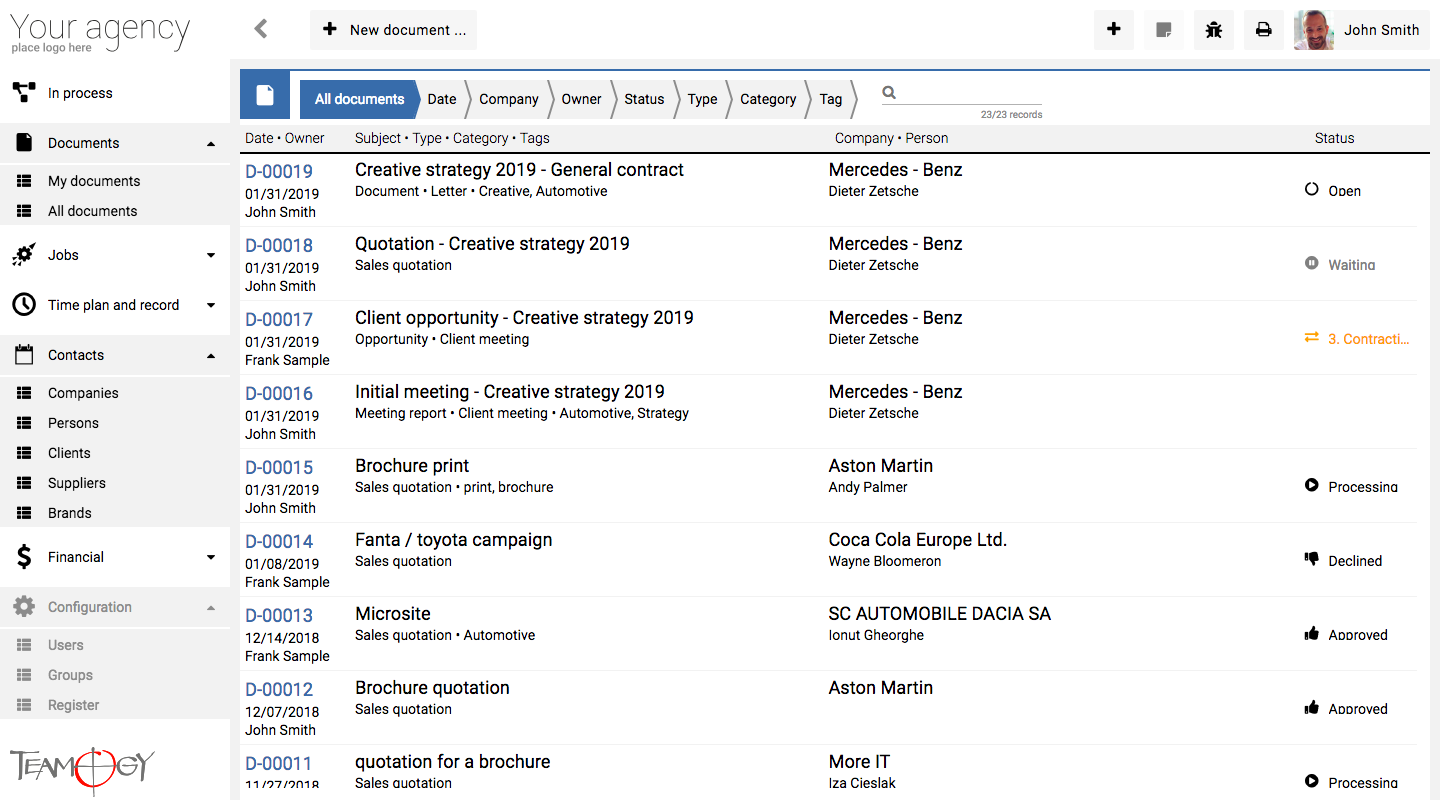 We help you get all documents under control. From your first contact with a client, to writing meeting notes, to creating quotation for the client, to filing the signed contract.
You can create and store all important agency documents, use pre-defined documents templates, or create your own ones. You can even scan documents into the system.
The job is the central point of the entire system. The quotation for the client is projected into the job, supplier costs are allocated, client invoices are issued, tasks are assigned, and tracked time are all allotted for the job. As a result, you have a continuous overview of how the job is progressing.
A well-crafted quotation is crucial for completing a profitable job. Ensure that you have the document design and also the content under control before it leaves the agency.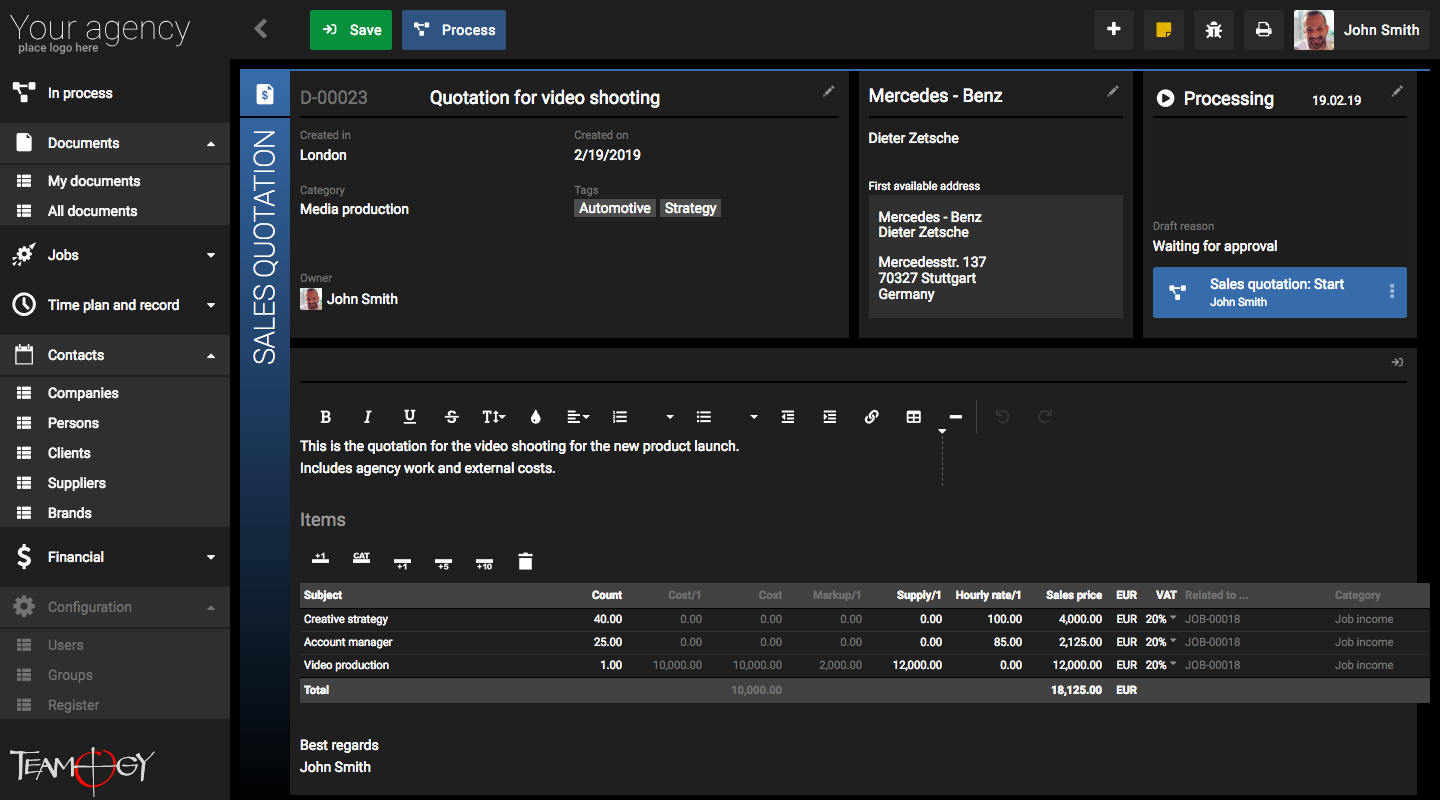 Each job shows the current margin and final profit. You will know how much you have already billed the client, the level of external costs already received, and how much time has been spent working on the job.
You will see all of the figures and related documents for the job in real time and therefore, have the opportunity to deliver the contract within the promised deadline and earn the planned profit.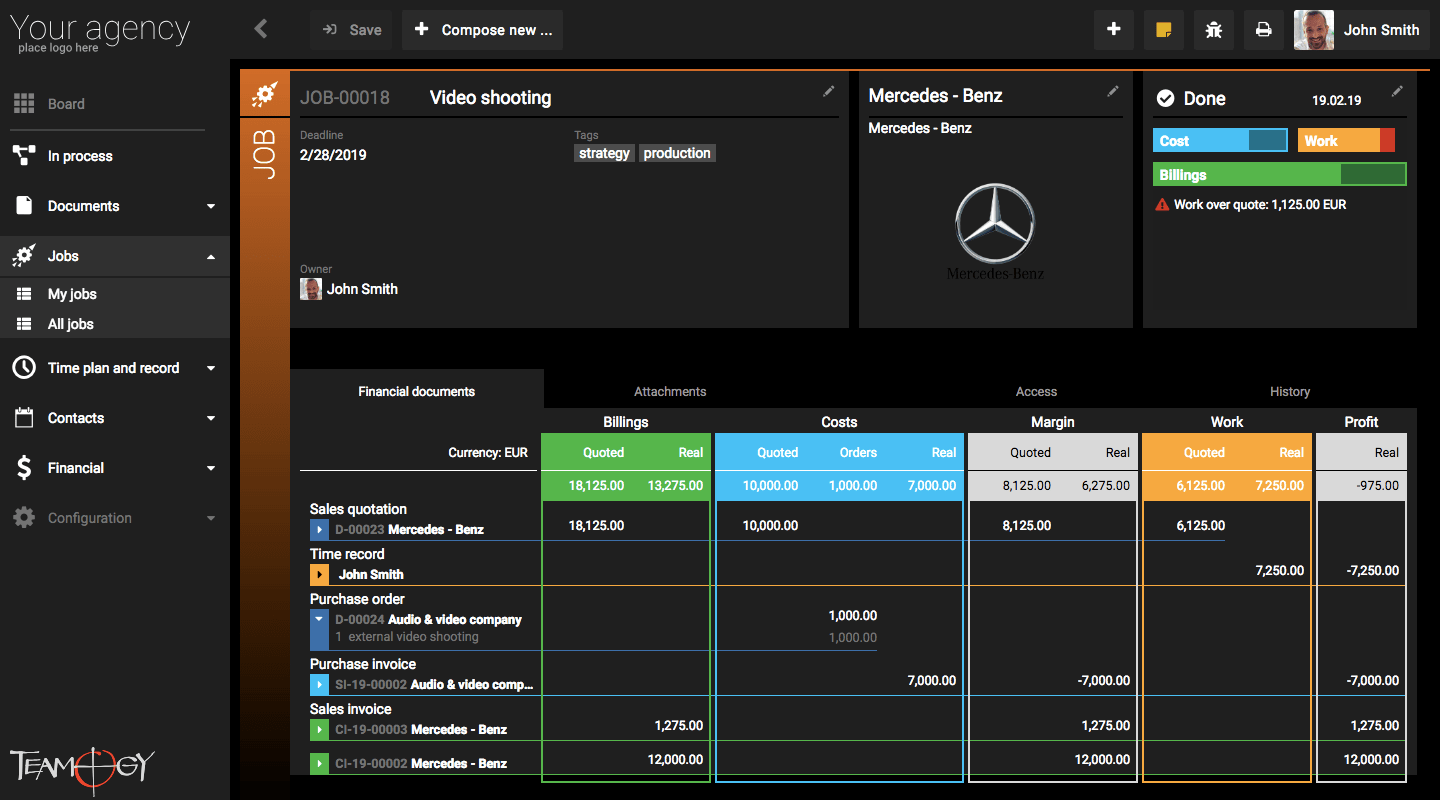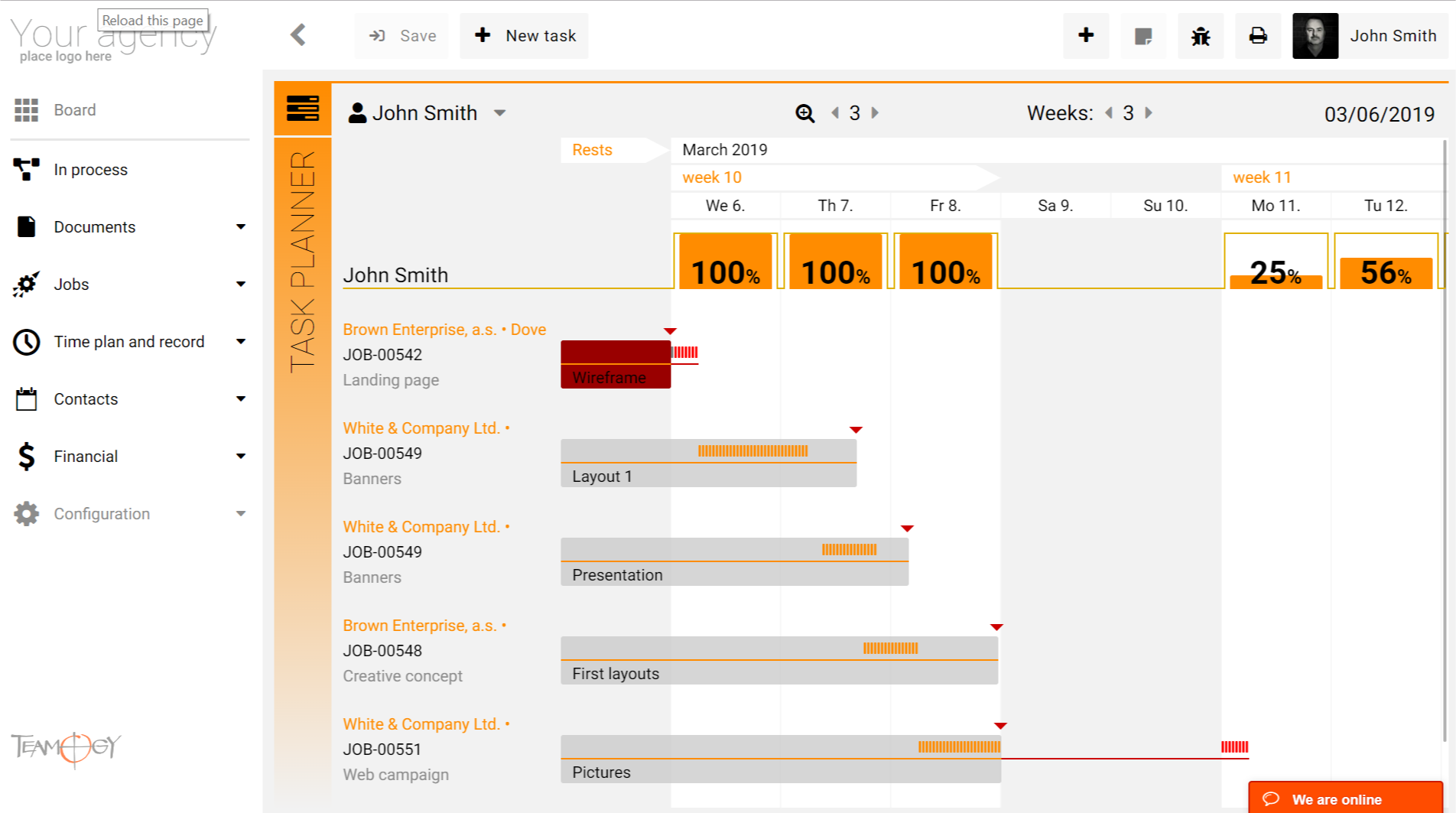 With our system you can create tasks with ease, assign them to the responsible people, monitor the workload of individual people, departments, or the agency as a whole.
Everyone will know what to work on at a given time, what needs to be finished, and when.
You can see immediately how you are managing to carry out an approved job, and whether or not you can bring new clients in with the team you already have in place.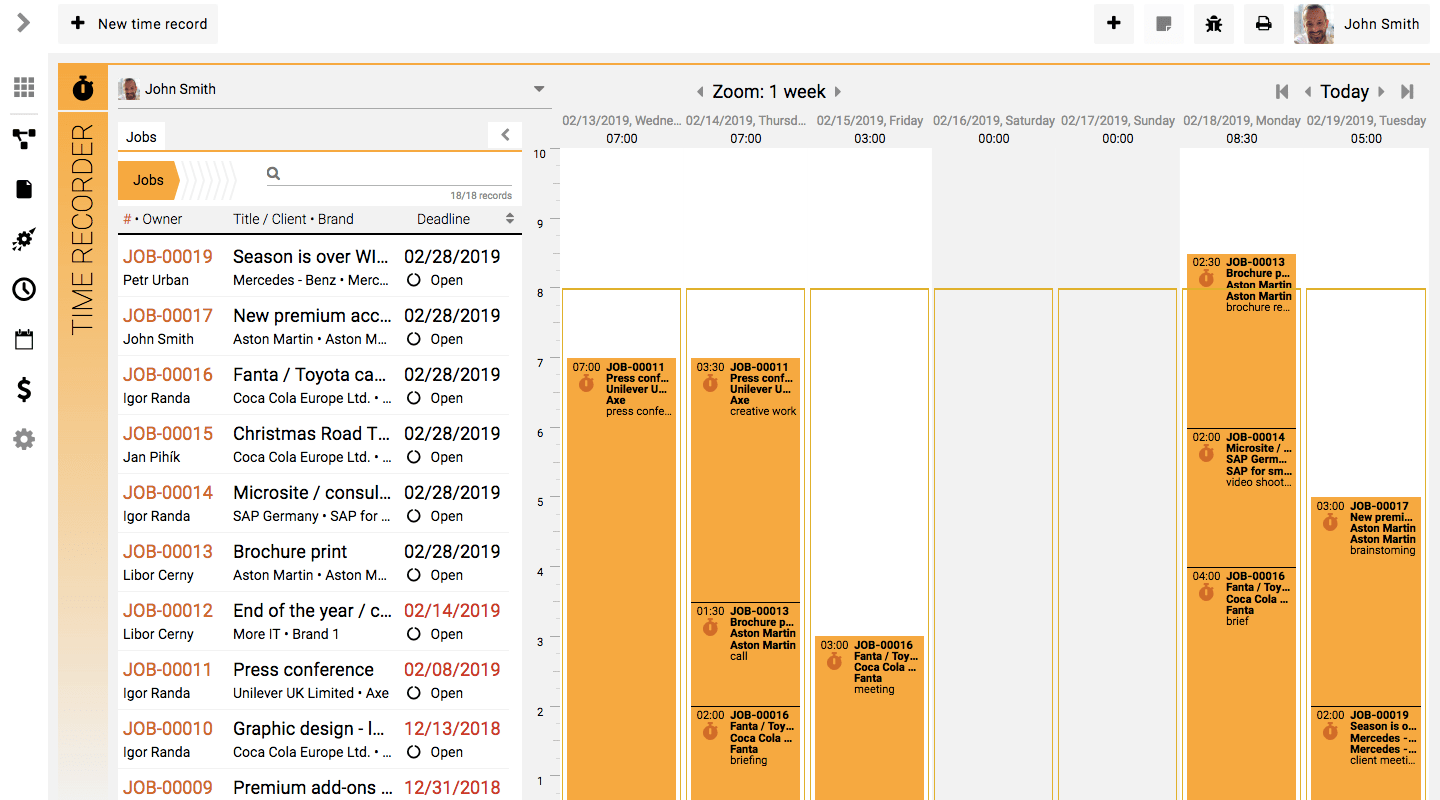 Time tracking is super simple and fast. It can be done for a job in general or for a particular task.
You can immediately see the amount of tracked time on both the task and the job and can effectively manage it and deal with any extra work.
What's more, users see their timesheets in a visual format – weekly or monthly. And it is effortless to have it on time and for the right job.
You can issue client invoices with a single click. An invoice is generated directly from the job, with values reflecting the approved quotation. You can adjust the amounts and other data if needed.
Supplier invoices, including scanned attachments, are entered into the system and are allocated to individual jobs or overheads. You will therefore have a comprehensive overview of the economics of individual jobs, as well as the whole company.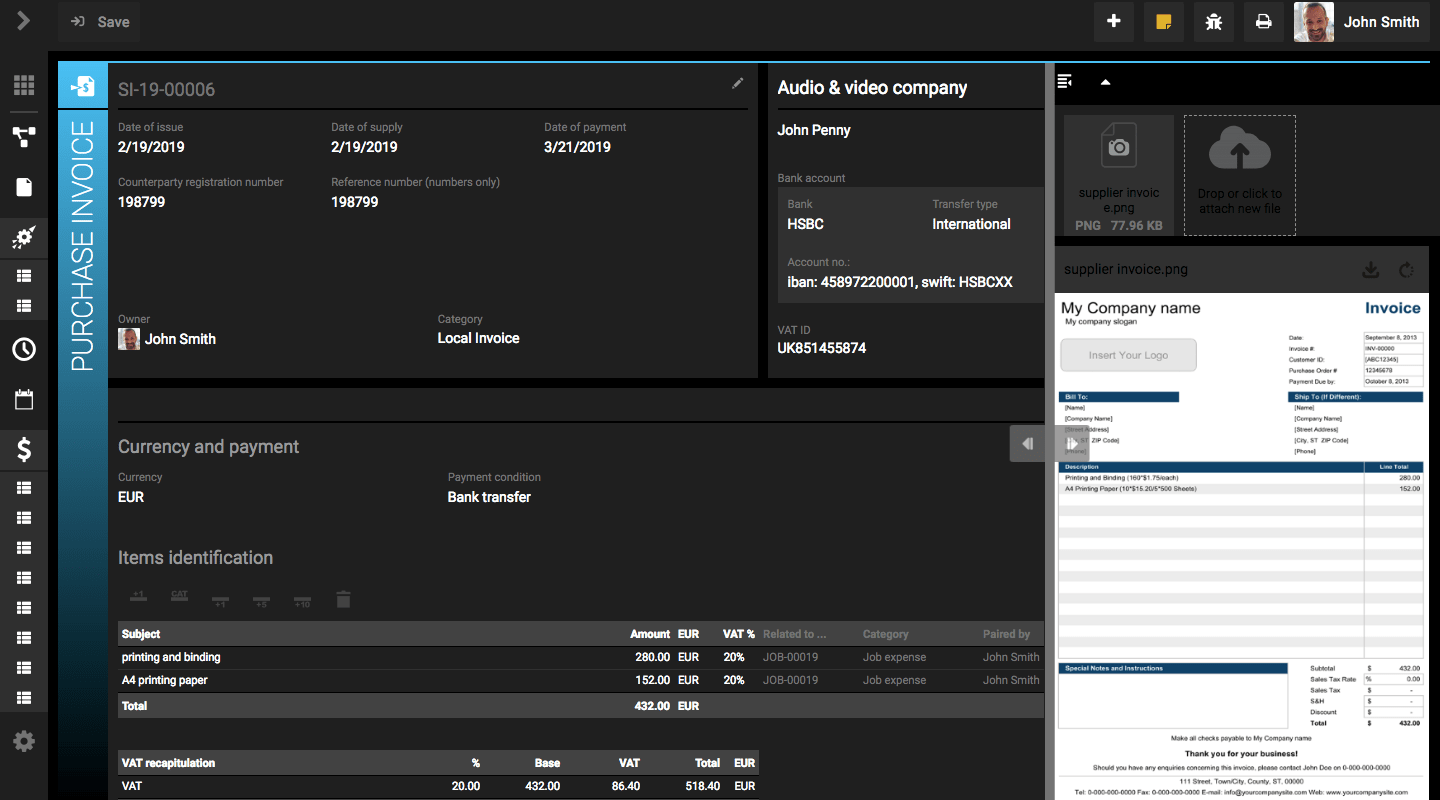 The system provides reports on several levels. Job reports by client, time, or owner show the job profit.
Alongside the jobs, the Company's internal overheads also require effective management.
Define the structure of your budgets, set an annual cost plan, and carefully observe how they develop.
A general report provides an overview of the company's total profit. You see the profit on jobs and the costs expended on internal company budgets, all in a single place.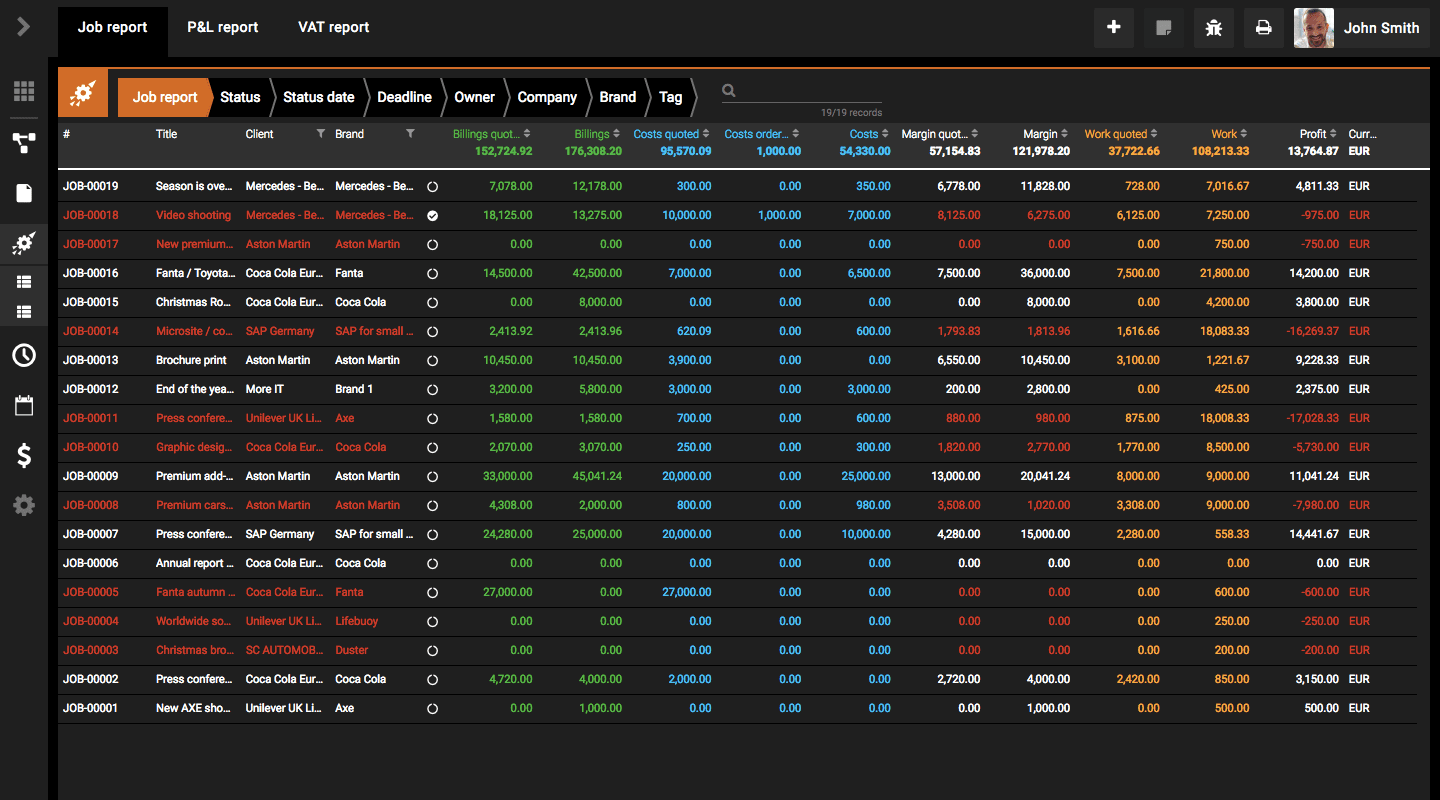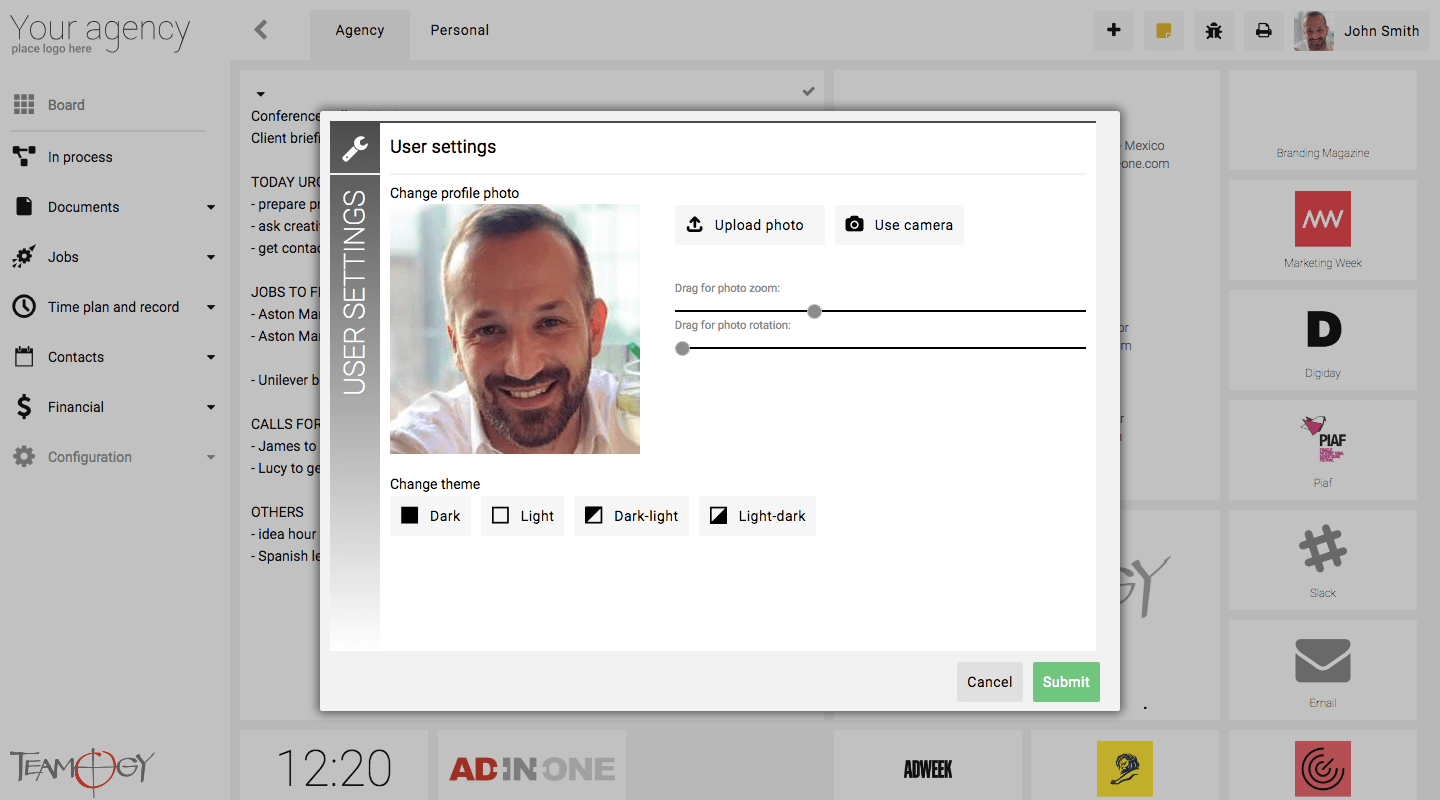 We designed a system that feels comfortable in everyday use. A system that users will be happy to work with. Every user can personalize the experience: system colour scheme, adding their own photo, or contact details to make communication with colleagues all the simpler.
Users can also have the system speak their language. We have 33 languages available and others are being added constantly. PC or Mac, tablet or mobile, you can work from anywhere without missing a beat.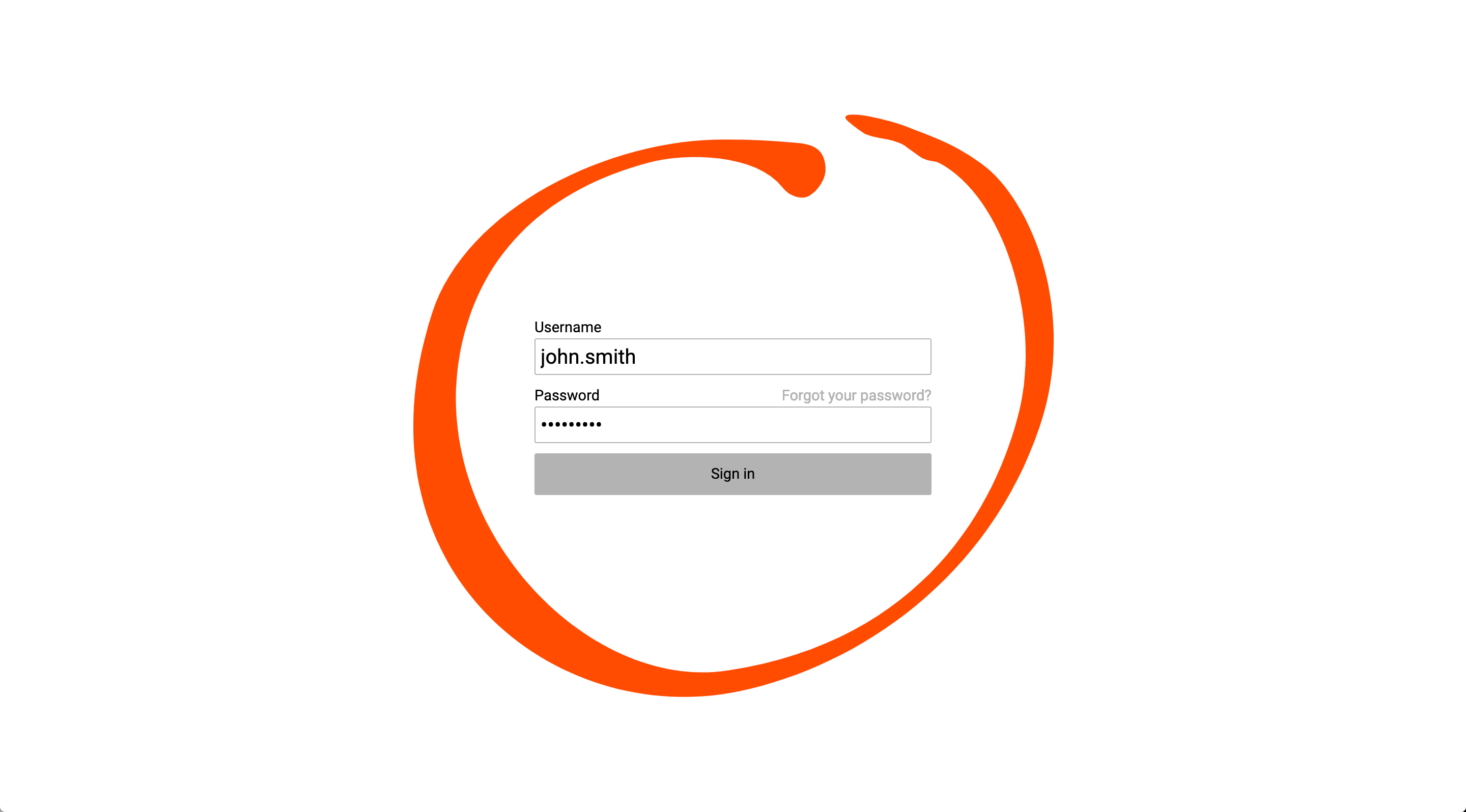 Protecting our clients' data is a top priority for us. Each client's data are stored in a separate database on the cloud structure.
We use two-factor authentication and follow the very highest security standards when storing users' login data.
The system is in compliance with the requirements of GDPR. The data of EU clients are stored in the AWS datacentre in Frankfurt, Germany.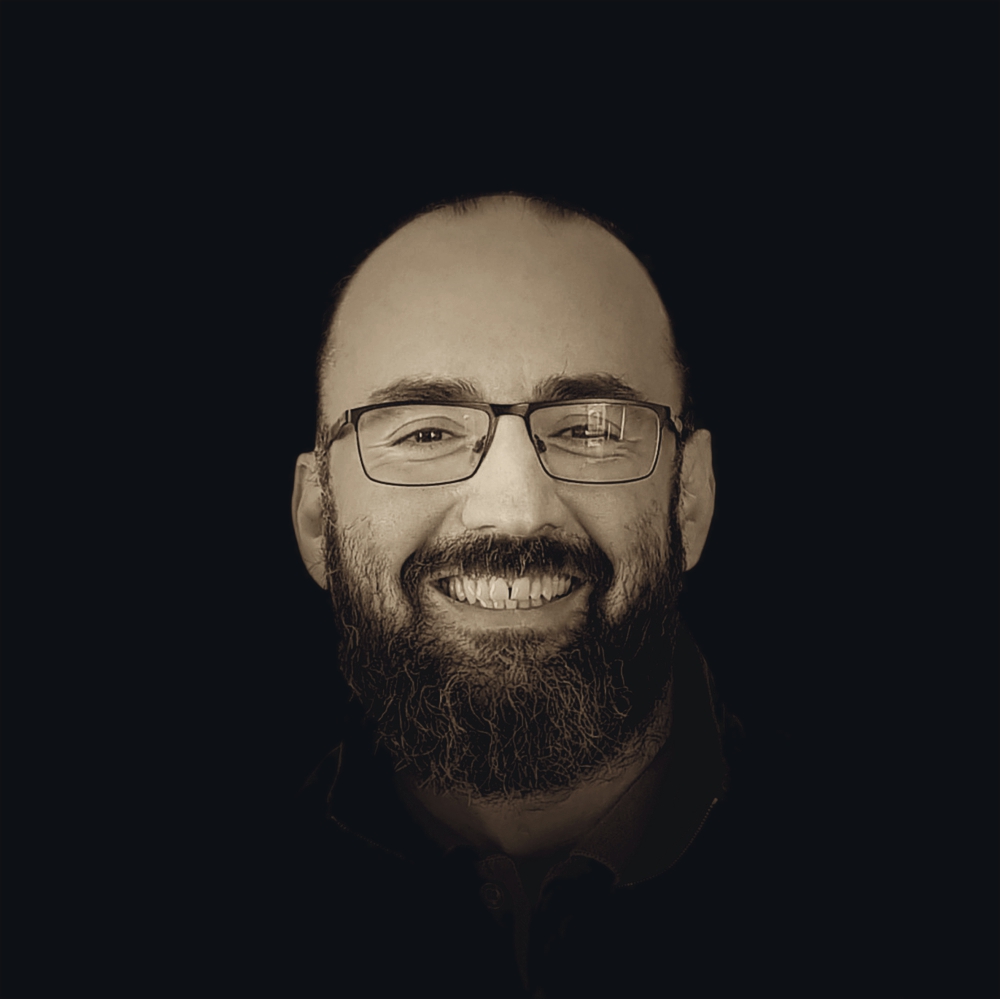 "Clients, suppliers, documents, financial data, P & L, and reporting; Teamogy has everything I need for my agency."
Cristi Cucu, General Manager
GR8 Advertising, Bucharest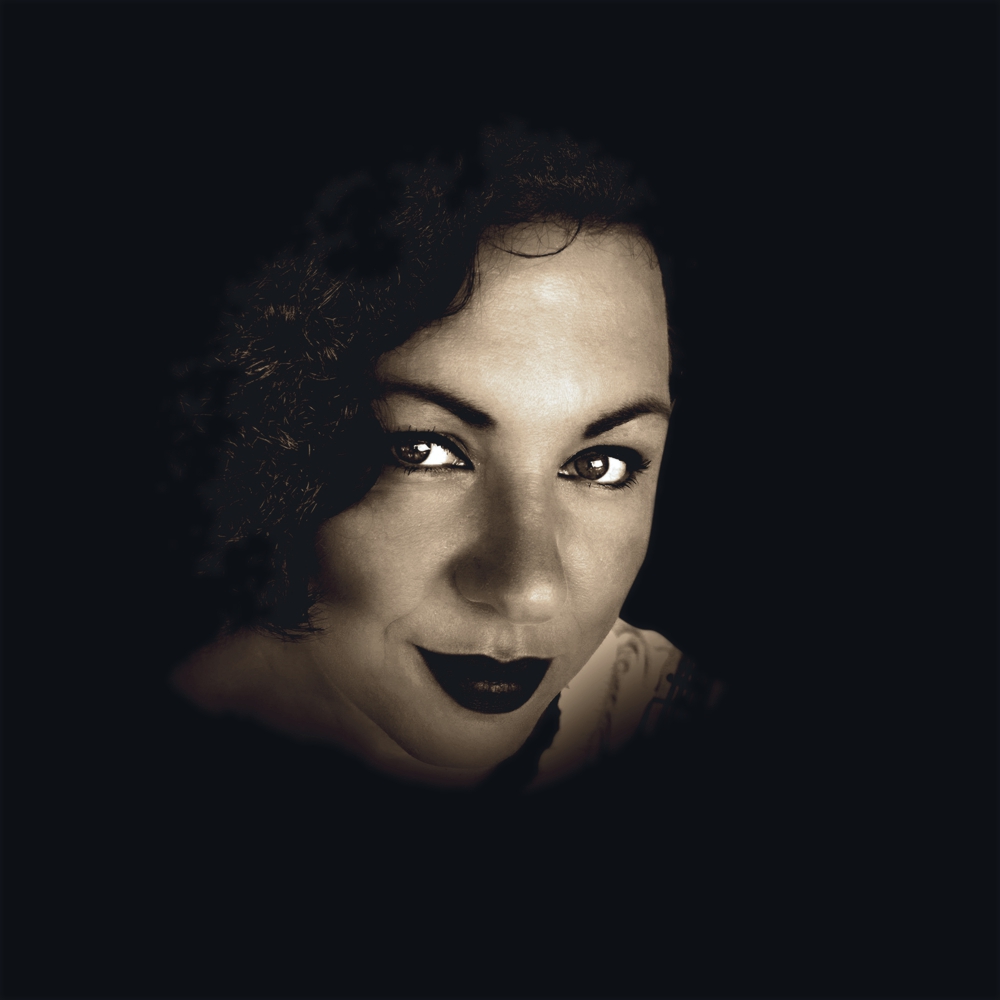 "I love effectiveness and clarity. To me, that is Teamogy. Like!"
Miroslava Jarošová, Senior PR Consultant
PR.Konektor, Bratislava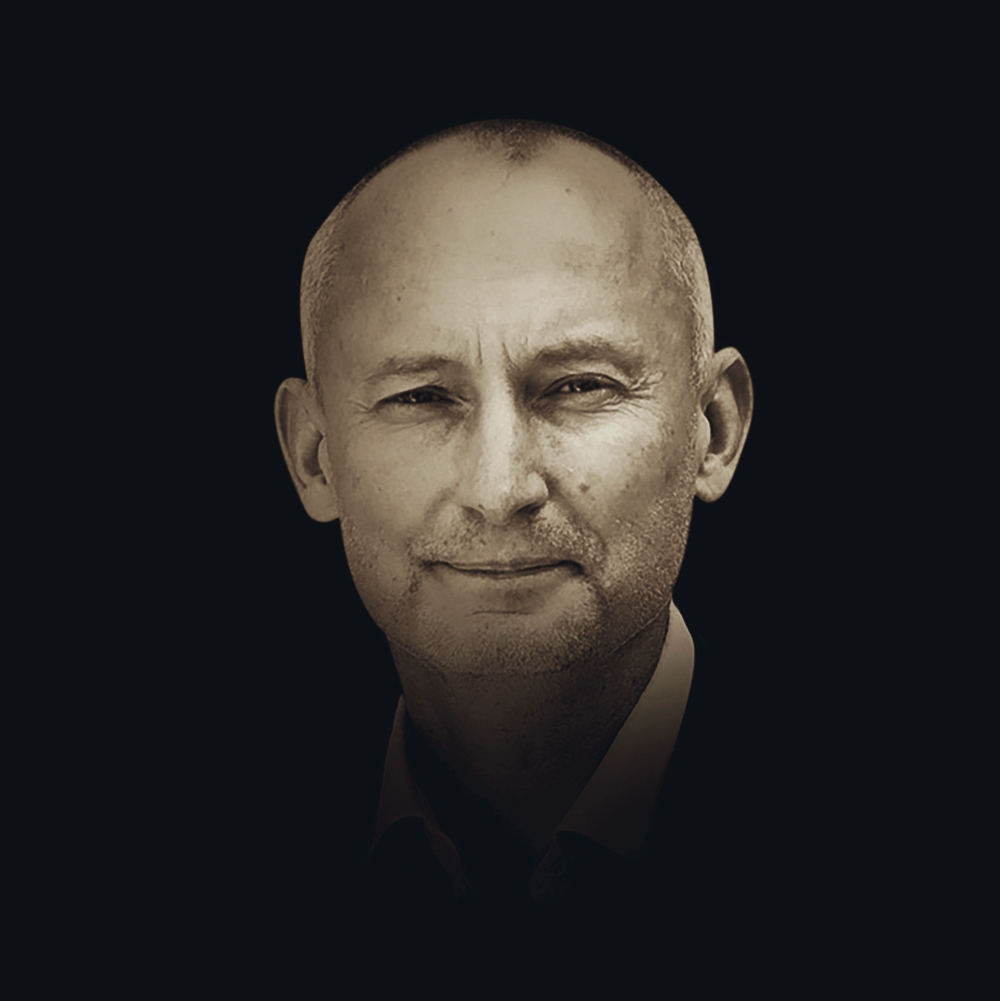 "I always know how the agency is really doing. Great for taking the right decisions."
Michal Richtr, Managing Director
Dynamo design, Prague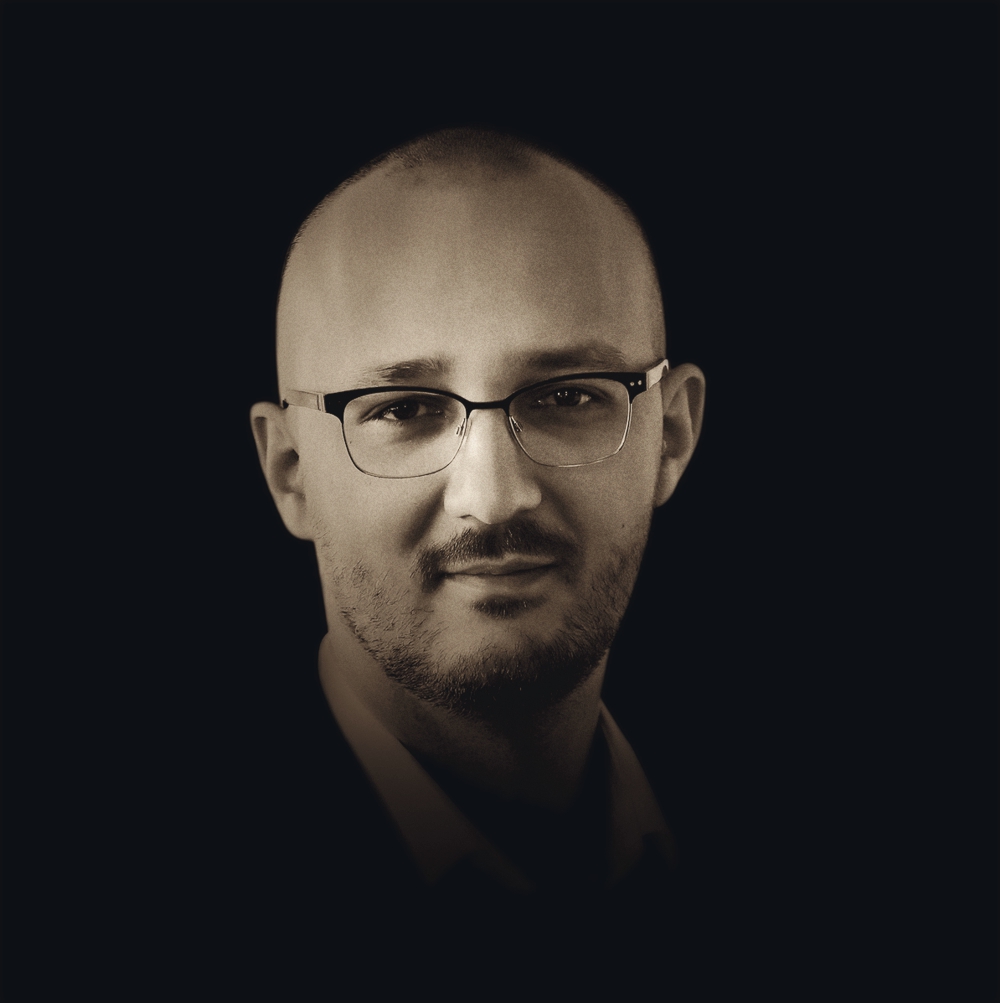 "Teamogy allowed us to concentrate most of our administrative work in one place. A joy to work with!"
Matúš Stračiak, Client Service Director
PR.Konektor, Bratislava
Our system is used by agencies all over the world, from small ones to multinationals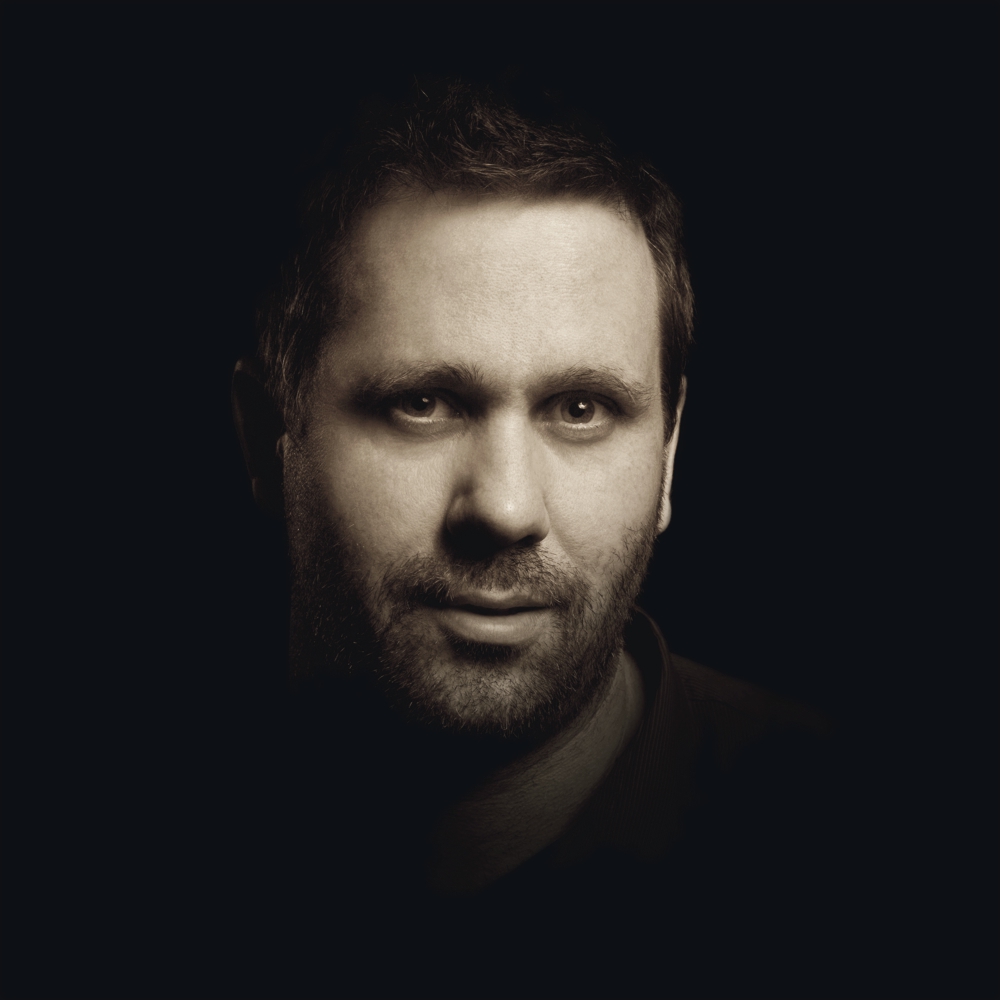 "We introduced the first system for managing and administrating agencies to the market in 1999. Since then we have been listening to what clients need and want, providing us with inspiration along the way."
Libor Černý
AD-IN-ONE, Managing Director
"We want Teamogy to be and remain the best comprehensive system for professional service firms on a global scale. And we will do everything we can to achieve that."
Vladimír Šolc
AD-IN-ONE, Founder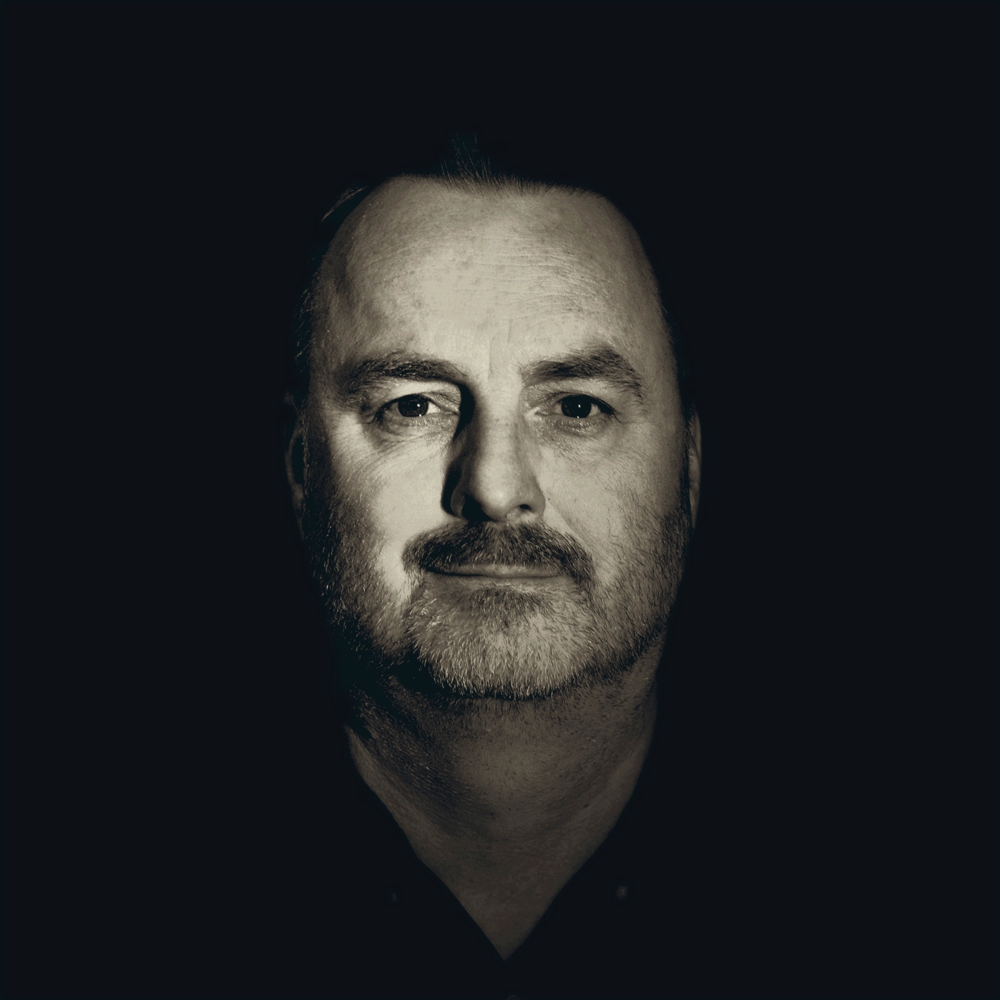 From |LY| |CUR| per user per month