Option to mark Remittance of Invoices is a perfect tool for overview which Invoices have been already fully paid, partially paid or not paid. This option is switched off in DEFAULT. The user, who would like to mark the remittance, has to be in group Bulk editor.
The all you need to is to go to the Accounting view. Then you see all Invoices. Sales invoices are default tab, but it can be switched at the top of your screen to Purchase invoices and newly to Cashbox.
You have three options how to mark the remittance – Full remittance, Partial remitance or No remittance. Each option has own icon.

Description
1. Full remittance icon
2. Partial remittance icon
3. No remittance icon
If you want to mark the Invoices, choose one or more Invoices that you would like to mark and click on the button Mark remittance icon. Choose one of three mentioned options. That's it, the Invoices has been marked with your option. You can use breadcrumb Remittance to filter Invoices by remittance.
Check the GIF below how to mark the Invoice as full remittance.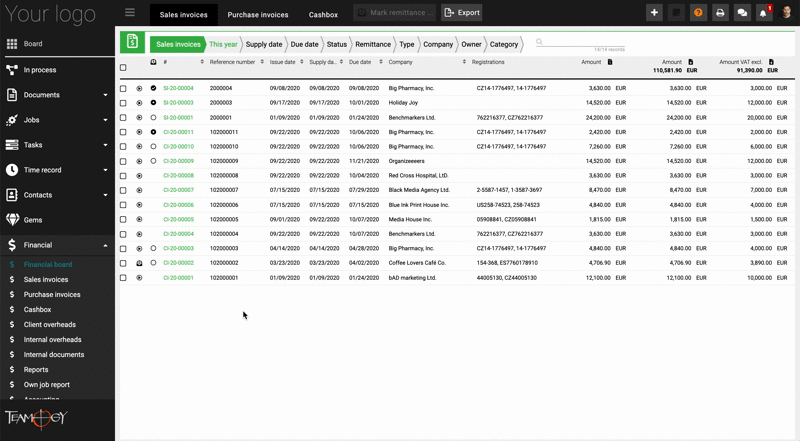 Get in Touch
If you have problem or need further assistance, do not hesitate contact Teamogy Support. Use online chat (inside Teamogy or everywhere on www.Teamogy.com in the lower right corner) and you will get prompt reply.