Jobs Are Not Closed Correctly
The job is the basis of all operations at the agency – it includes an approved quotation for the client, purchase orders placed to suppliers and tasks for the internal team. All financial documents are related to the job – it contains the supplier costs and is invoiced to the client. Order in jobs is thus a prerequisite for their profitability and the profitability of the entire agency.
A common problem for agencies is chaos in jobs – especially in terms of deadlines and billing. It is not uncommon for an agency to receive an invoice from a supplier, pay it, and still have no invoice to the client. It is also common that most jobs are still open, although the deadline is long overdue.
The Accrual basis performance chart points out the problem jobs. Red is unfinished jobs, where the deadline is past and there is already some financial movement on the job (supplier or client invoice).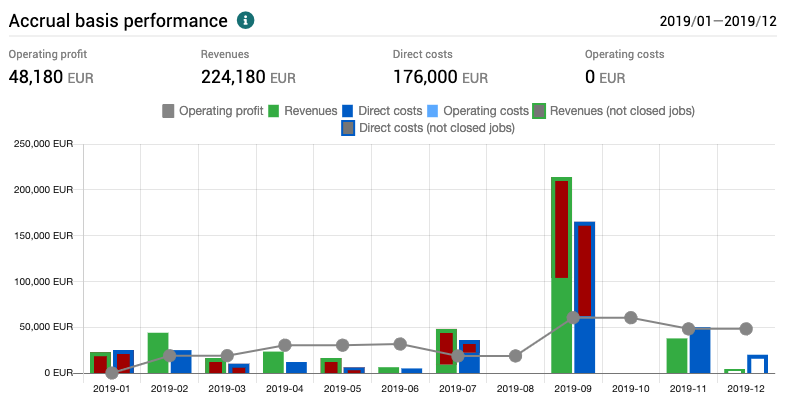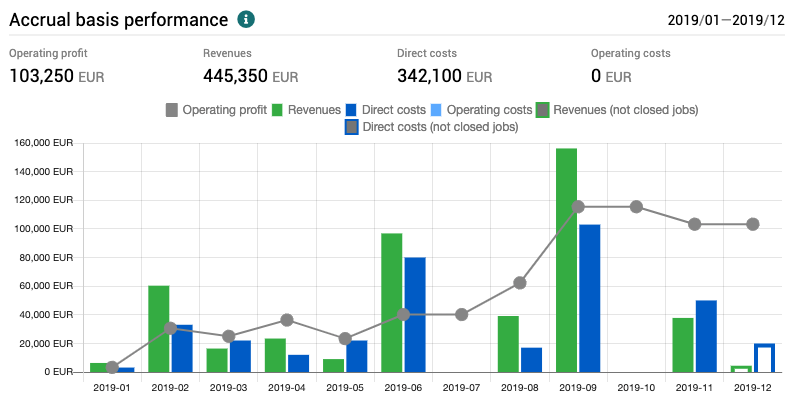 Get in Touch
If you have problem or need further assistance, do not hesitate contact Teamogy Support. Use online chat (inside Teamogy or everywhere on www.Teamogy.com in the lower right corner) and you will get prompt reply.