Nowe dokumenty wewnętrzne przychodowe
Ten dokument przydaje się, jeśli potrzebujesz rejestrować rachunki na jobie lub budżecie, za które nie masz faktury lub innych dokumentów podatkowych (na przykład: dochód z ubezpieczenia po wypadku, różnice kursowe i inne) lub musisz przelać przychody między jobami lub budżetami.
1. W menu po lewej stronie wybierz Finansowe.
2. Kliknij na Dokumenty wewnętrzne.
3. Kliknij na Nowy dokument.
4. Wybierz Dokument wewnętrzny przychodowy.
5. Uzupełnij wszystkie szczegóły. Obowiązkowe pola podkreślone są na czerwono (mogą się różnić w zależności od ustawień agencji).
6. Kliknij Zapisz.
Sprawdź GIF poniżej, aby zobaczyć jak stworzyć dokument wewnętrzy przychodowy.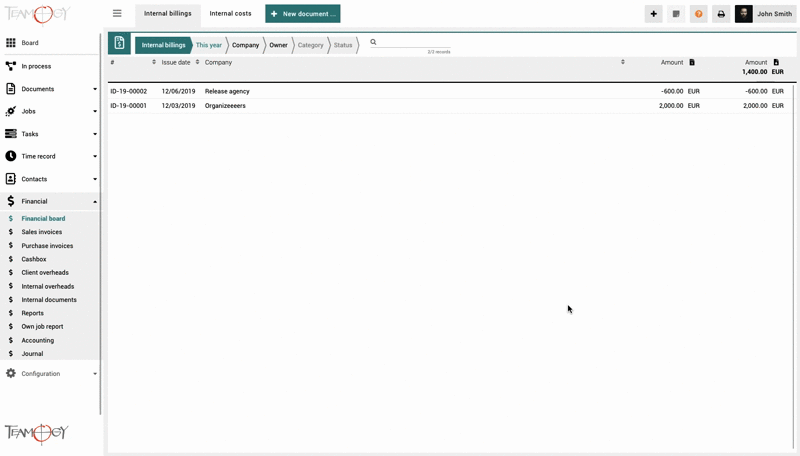 7. Jeśli chcesz przenieść przychody między zadaniami, nie zapomnij dodać drugiego wiersza do istniejącego dokumentu wewnętrznego przychodowego. Pierwszy wiersz dodaje wymaganą wartość przychodów do pierwszego zlecenia, a drugi wiersz odejmuje tę samą (wymaganą) wartość przychodów z drugiego zlecenia.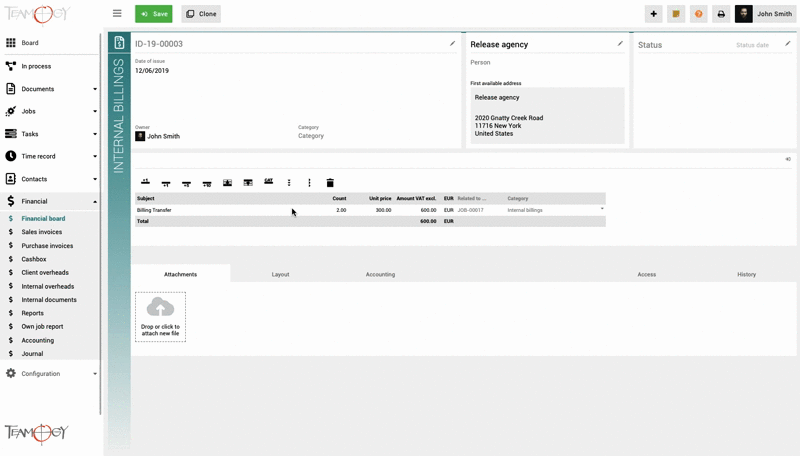 Get in Touch
If you have problem or need further assistance, do not hesitate contact Teamogy Support. Use online chat (inside Teamogy or everywhere on www.Teamogy.com in the lower right corner) and you will get prompt reply.